Die Songs der Kandidaten der 1. Mottoshow am 16. März.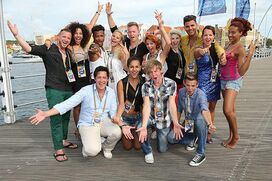 Songs der feststehenden Top 10 Kandidaten
Edit
Susan Albers : All by myself von Celine Dion
Timo Tiggeler : Viva la vida von Coldplay
Beatrice Egli : Ich liebe das leben von Vicky Leandros
Maurice Glover : Whistle von Flo Rida
Erwin Kintop : Next to you von Justin Bieber
Nora Ferjani : Back to black von Amy Winehouse
Ricardo Bielecki : Your song von Elton John
Tim David Weller : Here without you von 3 Doors Down
Songs der Wackelkandidaten (nur 2 werden davon gesungen)
Edit
Lisa Wohlgemuth : I´m like a bird von Nelly Furtado
Sarah Joelle Jahnel : S&M von Rihanna
Talina Domeyer : First day of my life von Melanie C
Björn Bussler : Don´t wanna miss a thing von Aerosmith
Fairuz Fussi : I kissed a girl von Katy Perry
Simone Mangiapane : End of the road von Boys || Men
Ad blocker interference detected!
Wikia is a free-to-use site that makes money from advertising. We have a modified experience for viewers using ad blockers

Wikia is not accessible if you've made further modifications. Remove the custom ad blocker rule(s) and the page will load as expected.