Nina Richel war Kandidatin in der 8. Staffel. Sie kam bis in die Liveshows.Sie musste Dsds aus gesundheitlichen Gründen verlassen und belegte somit den 9. Platz.
                     Nina Richel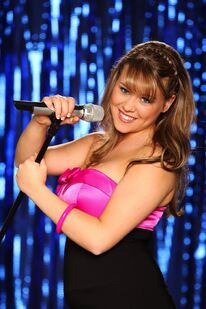 Alter                                    19
Geburtsdatum                4.Septemper
                                     1993
Staffel                               8.Staffel
Platz                               9.Platz
Über Nina
Edit
Wohnort: Hildesheim (Niedersachsen) Geschwister: zwei kleine Brüder, Yannik und Louis
Ihr Spitzname: Ninchen Ihr Sternzeichen: Jungfrau Ihre Augenfarbe: blau Ihre Haarfarbe: dunkelblond Besondere Kennzeichen: Langschläferin, kann zickig werden, wenn sie morgens zu früh geweckt wird So beschreibt sich Nina Richel selbst: spontan, ehrlich und frech Das macht sie in ihrer Freizeit: Volleyball spielen, sich mit Freunden zum Shoppen treffen und in ihrer eigenen Band "Granny Smith" singen Lieblingskünstler: Beyoncé, Leona Lewis und Taio Cruz
Das ist Ninas größter Wunsch: Ein BMW X6 Ihr Lebensmotto: I wanna celebrate and live my life
Liveshows
Edit
Ad blocker interference detected!
Wikia is a free-to-use site that makes money from advertising. We have a modified experience for viewers using ad blockers

Wikia is not accessible if you've made further modifications. Remove the custom ad blocker rule(s) and the page will load as expected.