Talina war Kandidatin der 10. Staffel. Sie gehörte zu den Wackelkandidaten schafte es, aber nicht in die Mottoshows.
Talina Domeyer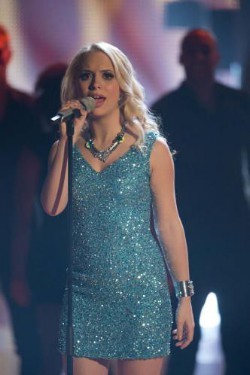 Alter                                    19
Geburtstag                  13.12.1993
Staffel                          10. Staffel
Platz                             13. Platz
Über Talina
Edit
Im Falle eines Sieges bei "DSDS 2013″ versprach sie ihrer Schwester, ihr eine Brust-OP zu bezahlen. Talina und ihre Schwester sind ein starkes Team und verstehen sich gut. Mit ihr und Nadjas 2-jähriger Tochter verbringt sie viel Zeit. Sie hat noch 2 weitere ältere Geschwister und wohnt bei ihren Eltern in Misselwarden, einem kleinen Dorf mit ca. 400 Einwohnern.
"DSDS 2013″-Teilbehmerin Talina hat ihren Realschulabschluss gemacht und möchte jetzt ihr Fachabi machen, gelegentlich kellnert sie, um sich ihr Taschengeld zu verdienen. Sport ist kein Hobby von ihr, dafür geht sie gerne tanzen, feiern, shoppen und kocht und isst für ihr Leben gerne – am liebsten Fleisch.
"Fleisch ist mein Gemüse", so die quirlige Blondine, deren Lieblingsessen Spanferkel ist. Bisher hat sie nur auf Familienfeiern gesungen, doch jetzt möchte sie weit bei DSDS kommen und die Menschen mit ihrer Musik berühren. Sollte dies nicht klappen, würde sie auf jeden Fall weiter singen und könnte sich auch vorstellen, als Moderatorin Karriere zu machen.
Auf jeden Fall möchte "DSDS"-KandidatinTalina, die derzeit Single ist, später selbst einmal eine Familie haben.
Ad blocker interference detected!
Wikia is a free-to-use site that makes money from advertising. We have a modified experience for viewers using ad blockers

Wikia is not accessible if you've made further modifications. Remove the custom ad blocker rule(s) and the page will load as expected.