Zazou Mall war in der 8. Staffel Kandidatin. Sie schaffte es bis in die Liveshows und belegte den 6. Platz.
                       Zazou Mall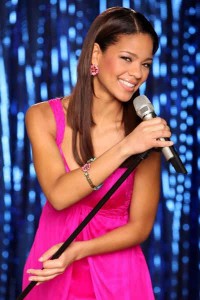 Alter                                      28
Geburtsdatum                       16. Februar 1985
Staffel                                     8. Staffel
Platz                                        6. Platz
Über Zazou
Edit
Wohnort: Zürich (Schweiz) Geschwister: eine jüngere Schwester, Zena
Ihr Spitzname: / Ihr Sternzeichen: Wassermann Ihre Augenfarbe: hellbraun Ihre Haarfarbe: braun Besondere Kennzeichen: Muttermal auf der Nase, zwei Tattoos (auf dem Nacken und am Bauch) Jobs: Ausbildung als Einzelhandelsfachfrau sowie Tanz-Theater Ausbildung
Das ist Zazous größter Wunsch: Welttournee als erfolgreiche Sängerin Ihr Lebensmotto: Die Hoffnung stirbt zuletzt
Liveshows
Edit
Ad blocker interference detected!
Wikia is a free-to-use site that makes money from advertising. We have a modified experience for viewers using ad blockers

Wikia is not accessible if you've made further modifications. Remove the custom ad blocker rule(s) and the page will load as expected.